after several fails to replicate a nice saturday morning pancake recipe with gluten-free substitutions, i was quite excited to try a mix given to me in amongst a whole basket of vegan, gluten-free treats! (yes, i do feel incredibly blessed and touched to receive such a perfect gift!)
the mix is by a company i hadn't seen before and i wonder if it's available only in the states for now? called
the cravings place
, i am convinced they make a wonderful product to have on hand for brownie emergencies and the like (yes, i have also tried the brownies and they were also ridiculously easy to make and delicious!). all of their products are made in a dedicated gluten-free, wheat-free, dairy-free, egg-free, and nut-free facility and they package items containing sugars (ie the chocolate chunks in the brownies are not yet completely beet sugar-based, some products still have cane sugar) separately in the case you are avoiding sugar! most impressed.
the pancake/waffle/biscuit mix contains: whole grain brown rice flour, non-aluminum baking powder (sodium acid pyrophosphate, bicarbonate of soda, non-GMO cornstarch, mono calcium phosphate), vanilla bean powder (vanilla beans, corn-based dextrose), sea salt, baking soda, and xanthan gum. it's not organic unfortunately but i appreciate very much that the corn is non-GMO. and i can't say pancakes are something i make more than once a year so i will forgive myself for the "conventional" production.
i was amazed by the simple, no-fail directions. basically: scoop some of the mix in a bowl and stir in cold water until smooth and desired thickness (ie more water for a thinner pancake) and let sit for a few minutes. i love a thick, fluffy pancake and so i kept my dough slightly runnier than a glop. and wow, they cooked up so fast and they were heavenly light, fluffy things! i put some bananas and farmers market maple syrup on top and finally, i have achieved some gf vegan pancake perfection!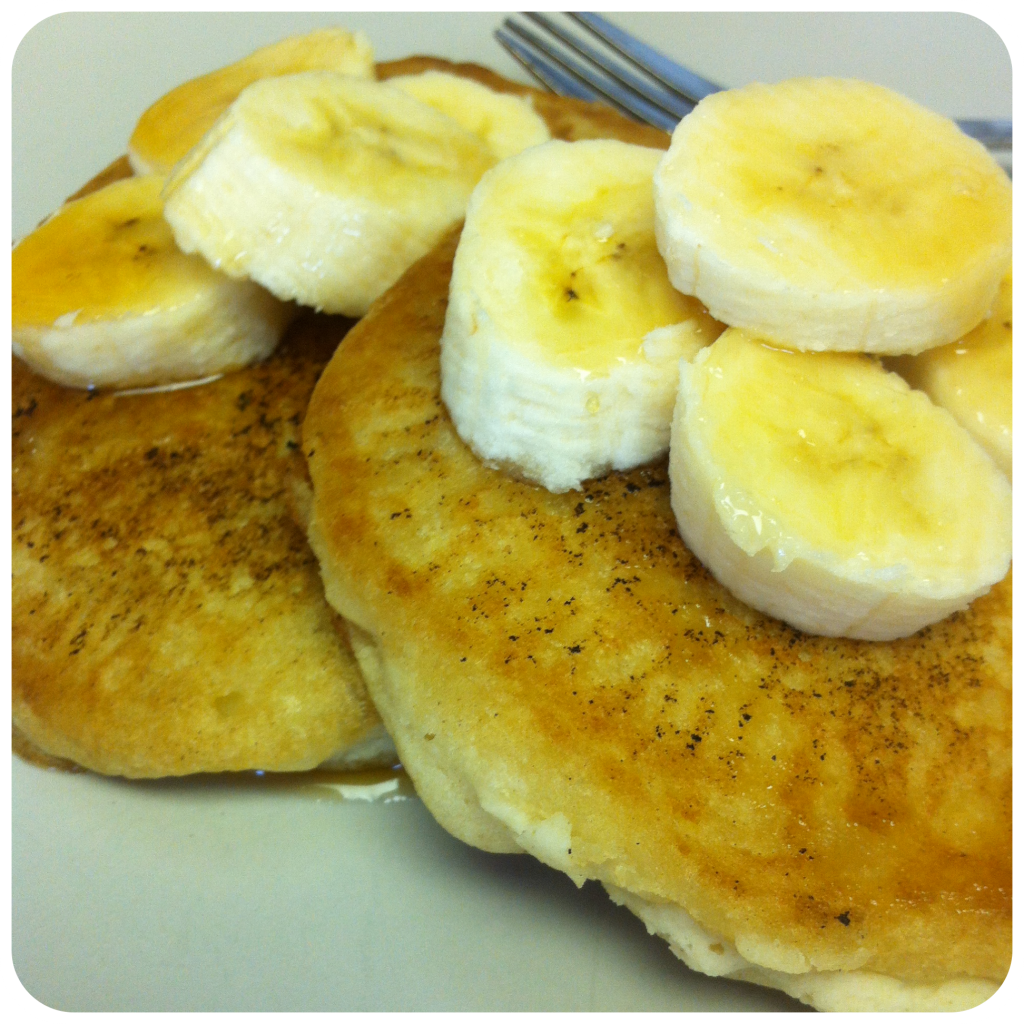 now, next time i will have to try creating my own recipe!