when is the last time you ate at a table in your home? for paul and i, it was last night! after what seems like months! and we vow to do it way more often. but a big push to actually sit down for dinner is to make a dinner worth sitting down for (rather than a quick rice and veg that we sit on the couch with), which last night was roasted butternut squash, raw chili, ginger garlic coleslaw, edamame quinoa and
kombucha
(grapefruit sage is my
absolute
favourite!) with jodie and janna!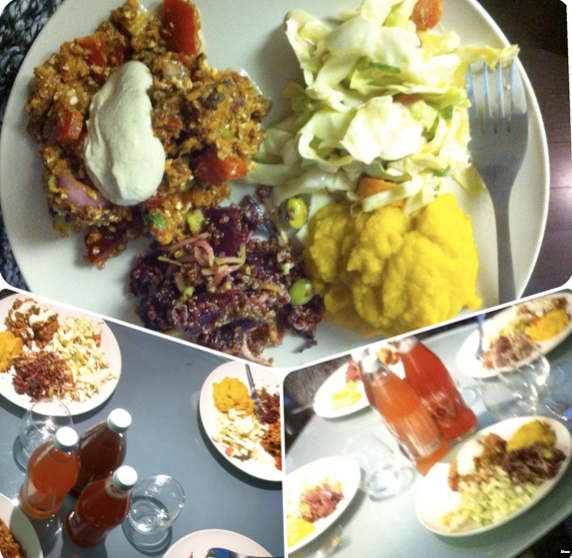 the butternut squash was inspired by a recipe i saw in
alive
magazine but as usual for me and recipes, i didn't quite follow it. what i did was bake the butternut squash and then blend it with about 2 tablespooons of olive oil and 2 tablespoons of earth balance and 2 tablespoons of dijon and a palm-full of fresh sage and a pinch of sea salt and a small nub of ginger. then i baked it at 400 F for about 30 minutes and then i broiled it at a bit higher to brown a bit of the top because i hadn't added anything (like cheese, like the recipe had suggested). it was smooth like baby food and i liked having it mixed with the other dishes, like janna's yummy quinoa, for texture purposes. it was also nice for a "sweet" change from my garlic-heavy chili and slaw.
the chili is my ever-faithful matthew kenney one (his
everyday raw
book is worth buying just for that recipe, i swear!) and i had made a raw caesar-ish dressing earlier that day that we used like a sour cream on top (delicious! it was a blend of cashews and water and lemon juice and ACV and sage and dulse and tahini and olive oil and braggs) and the slaw was inspired heavily by ani phyo's chinese chickenless salad (page 161 of
raw food essentials
, another great book to have around). i did a blend of braggs and ACV and garlic and ginger and olive oil and tahini and maple syrup. paul told me today when he pulled out the leftovers that it really needed some nuts on top which i agreed and the original recipe had called for that.
having time off right now affords me the luxury to relax and take time to make food and i hope this experience influences my working days as well so that i get into the habit of coming home from work and sitting down at the table for dinner after making more inspiring meals with paul. ^_^